This WACOM USB Signature Panel is perfect for WIC clinics enrolling new members. Large enough to capture long signatures and easily readable in varying light conditions.
SoliWICPrint is a mobile application developed by SoliSYSTEMS Corporation for use by WIC Authorities during certification and compliance testing of eWIC Point of Sale Systems.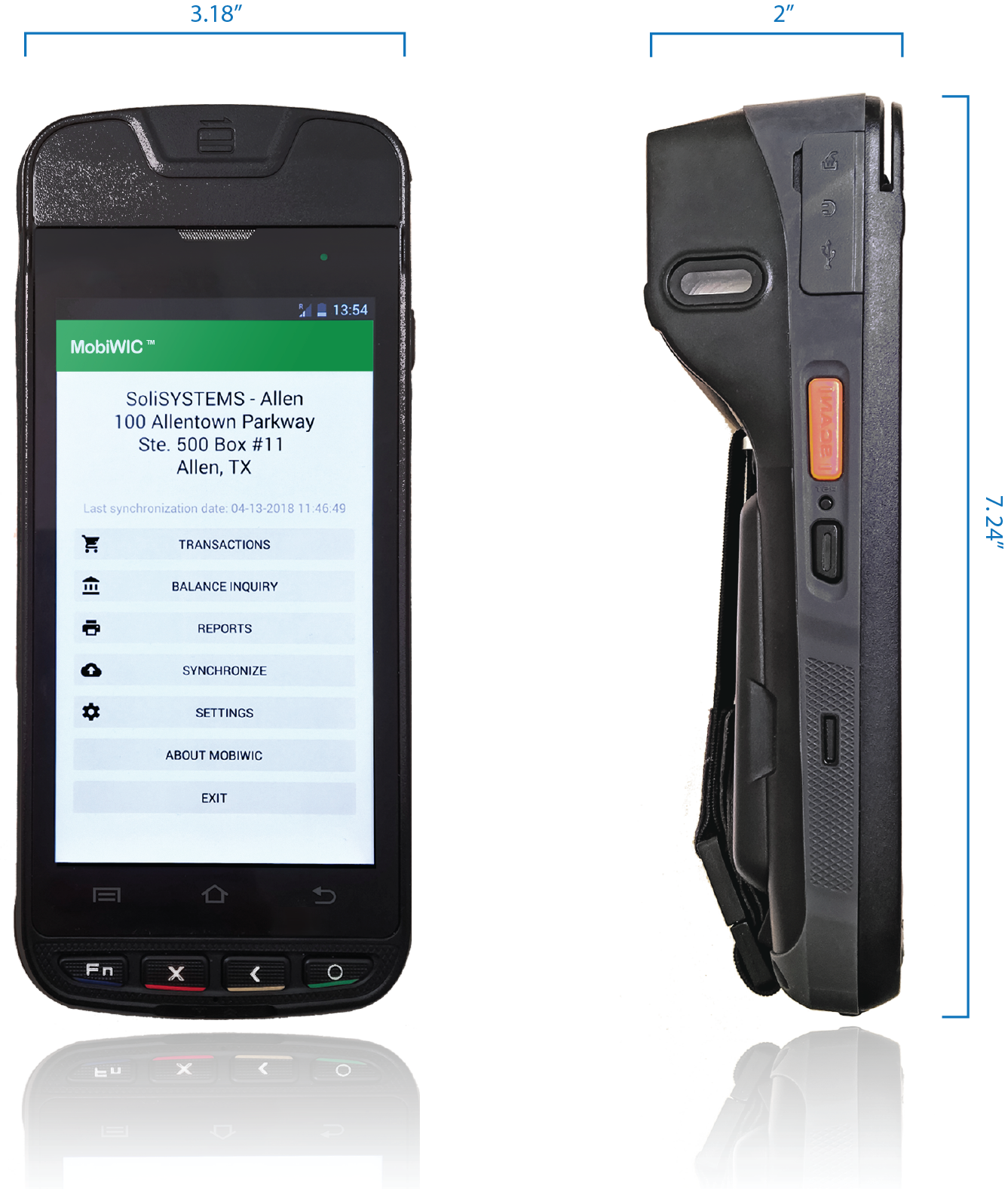 MobiWIC is a eWIC-compliant cash register in one durable compact wireless device.
Full-Function UPC Reader thermal printer, eWIC card reader, and virtual pin pad.
Synchronize devices over WiFi to prepare and submit your daily claim files.​
Powerful Web App monitors claim file status and generates custom sales reports.
Integrated infra-red barcode scanner.
Thermal Receipt Printer. 203dpi / 8dot / mm Printing speed: 50-70mm/s. Supports barcode printing.
Standard, non proprietary, 2" core-less, 30mm diameter, thermal paper roll.
Safedroid OS (based on Android 5.1).
Integrated infra-red barcode 5.0 inch,TFT-LCD (720x1280) color screen.
Ultra sensitive capacitive touch screen, works with wet fingers.
Length: 7.24"
Width: 3.18"
Depth: 1.25" - 2"
Rechargeable 3.8V, 5000 mAh lithium polymer battery pack (typical operation time less that 8 hrs).
WiFi 802.11 b/g/n, Bluetooth 4.0, 4G, 3G, 2G.
Included: power adapter, data cable, battery, charging cradle, hand strap, and fifty rolls of printer paper.
Temperature: 14 - 22 degrees Farenheit
Humidity: 5% - 95% (non condensing)
Would you like more information about SoliWIC Print?
Fill out the contact form or contact us directly via phone or email!